With the kids off school and a request from my little un we have been busy making treacle toffee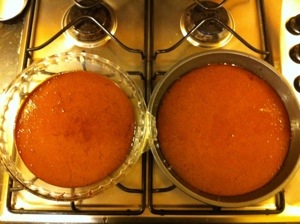 It may look like cake at the moment, but it won't!
To do this
115g treacle
115g golden syrup
450g brown sugar (dark brown is best)
125ml hot water
1/4 teaspoon cream of tartar
Place the hot water and sugar into a pan, the biggest one you have is best as it needs room to bubble. Once the sugar is dissolved, add the rest of the ingredients and leave to heat up. Try not to move or mix the mixture and make sure it gets up to a temperature of 270oF or 140oC, this can take upto 30 mins to do and regular testing with a sugar thermometer.
Once done leave to cool and voila!